For Physicians
What Should a Physician Know Before Referring a Patient to a Bariatric Surgeon?
Surgical weight loss, or bariatric surgery, is a major undertaking for the patient. It affects not only the patient's family and loved ones, but also the relationship with the primary care physician.
Program Selection:
Primary care providers should encourage the patient's to seek a comprehensive bariatric program that is as close as possible to the patient. We can't express how important it is for the patient and there bariatric program to have a good working relationship to provide continuity of care and support for the patient.
Patient's need to understand the importance of enrolling in a bariatric program that is comprehensive. This should include incorporation of behavioral, dietary, exercise education and regularly scheduled support groups.
Primary care physicians should be aware of the importance of having a well-trained bariatric surgeon that is certified and credentialed by various societies. Making sure that a bariatric surgeon is ideally certified by the American College of Surgeons (ACS) and the American Society for Metabolic and Bariatric Surgery (ASMBS).
Primary care providers should encourage their patients to undertake their surgery at a bariatric program that is as close as possible to the patient. Having easy access to the bariatric surgeon goes a long way in complication prevention and continuity of care.
Patients should consider programs that are comprehensive. Any bariatric surgery program that strives to provide the best possible care will incorporate behavioral, dietary, and exercise education, in addition to regularly scheduled support groups.  This ensures a commitment to follow their patients long-term, support and educational structure to comprehensively treat the patient, and set pathways to maximize safety.
Follow Up Care:
Patients who have undergone surgical weight loss should be seen on a regularly scheduled basis in addition to any other issues that may require consultation by their bariatric surgeon.
We follow up with our patients post-operatively at one week, one month, three months, six months, nine months and annually.
Physician Referral Form
If you are a referring physician, please click here and fax this form to our office. If you have any questions, please contact us directly.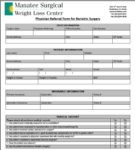 Obesity Billing Codes
As a primary care physician having discussions with your patient about obesity is not only in the patient's best interest but is billable as recognized by CMS. Please see attached codes to help your office with these important discussions.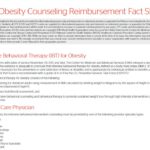 Emergency Care of the Bariatric Patient
Handy flow-sheet of recommendations by the ASMBS.